by Siegfried Othmer | April 21st, 2008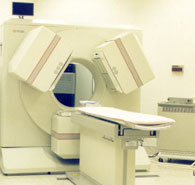 The utility of EEG feedback or Neurofeedback in the resolution of Post-Traumatic Stress Disorder has already been established in research going back more than a decade. We now use it routinely with veterans in connection with our volunteer services (through Homecoming4veterans.org ). The world at large, however, remains to be convinced of the superiority of EEG feedback in the resolution of PTSD.
Establishing EEG feedback more generally as the treatment of choice for PTSD and other mental health issues is now an urgency, given the recent estimate by the Rand Corporation that some twenty percent of Iraq and Afghanistan veterans are coming home with major mental health concerns and/or traumatic brain injury.
To that end, we recently had one of our veterans undergo SPECT scans before and after EEG feedback training to document the resolution of the condition. SPECT is one of the standard functional imaging tools that are now available to characterize brain function and to do so relatively non-invasively. A small amount of radioactive material is injected into the blood stream, and where that activity is picked up in the brain shows the regions that are most strongly activated. PTSD characteristically shows a kind of diamond pattern formed by elevated activity frontally at the anterior cingulate gyrus, laterally at the basal ganglia, and centrally at the thalamus.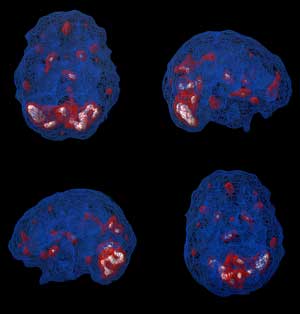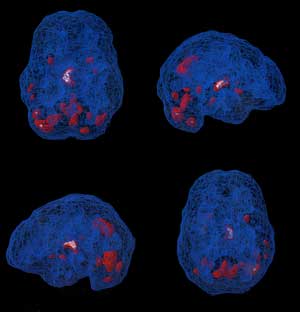 This pattern is indeed seen in our veteran, as shown in the attached Figure. After the EEG feedback training, the activity levels are much diminished, as seen in the second of the two Figures. It was already obvious from the verbal reports that matters were much improved, but it is nice to have the confirmation from the SPECT scan. The imagery also shows excess activation at the cerebellum before training, and much reduced activation afterwards. We may not know the specific functional implications of this cerebellar over-activation, but the downward trend is welcome in any event.
After sixty sessions of 30 minutes each, there were no more nightmares (or more correctly, nocturnal flashbacks); there was reduced anxiety, depression, and irritability. Sleep was improved; he was more comfortable socially, and he was drinking less. He felt more optimistic; was making plans for the future; and he was returning to school. He said that he was feeling more confident, and was happier. It is difficult for words to describe the magnitude of the change. At the time he came for training, he appeared to have very little care even about whether he lived or died. His life was not going anywhere. With respect to that benchmark, he was in a very different place after the sixty sessions of training. Moreover, he recently returned for additional sessions.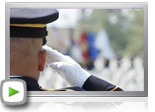 Neurofeedback & PTSD – Watch Video
Therepeutic Applications of Neurofeedback:
Post Traumatic Stress Disorder (PTSD)
—-
Siegfried Othmer
Ph.D., B.C.I.A.C.