by Siegfried Othmer | July 24th, 2015
Shared by Siegfried Othmer, PhD
Iam a 55-year-old woman from Metairie, Louisiana, who served 20 years in the United States Army from August 10, 1978 to August 31, 1998. I enlisted to become a Parachute Rigger but first I had to pass airborne school. In October 1978, during the third week of airborne training, I witnessed a parachutist fall to his death. Needless to say, I did not graduate from airborne school.
Sent to Quartermaster training, I graduated as a Supply Clerk, and was assigned to Germany in January 1979. In early spring of that year, on a unit Alpine ski trip, I crashed into another skier and then a chair lift terminal, which knocked me unconscious. I was airlifted to an Austrian hospital and released after five days and returned to duty with only a soft collar to wear. No follow-up treatment was provided at all for the concussion. While I was in the service, I developed frequent headaches and after I retired, was given a service-connected disability for migraines.
I re-enlisted to be a Licensed Practical nurse in 1983, and was sent to Walter Reed Army Medical Center's Surgical Intensive Care Unit (SICU). It was as rewarding and fantastic as it was harrowing. In my almost three years in that SICU I witnessed lots of blood and lots of death.
During my final assignment at Fort Riley, in February 1995, on a ski trip in Colorado, another skier ran into me this time, and again the left side of my body, especially my left shoulder, took the brunt of the impact. From then on, I could no longer sleep on my left side, which progressed into my being unable to sleep on my right side without experiencing shoulder pain and headaches.
In December 1997, I had a hysterectomy for severe endometriosis. The hysterectomy caused insomnia. Also in 1998, for the first time I sought help for depression and was prescribed Paxil. It quit working—if it worked at all—so finally, in 2006, the psychotropic drugs were discontinued.
The first week of my retirement from the service, September 1998, I developed what seemed to be a type of chronic fatigue and tender glands beneath my jaw. Medical exams and various blood tests all came up within normal limits.
Meanwhile, I was getting counseling from different providers for depression and anger, both outside and through the Veterans Hospital. Nothing seemed to work and I realized that I could talk to counselors until I was blue in the face; if I didn't forgive, I would never heal.
In 2004, a neuropathy developed in the left subclavian area of my shoulder, to the point that I could no longer even wear the lightest necklace without experiencing nausea and headaches. Any pressure on my left shoulder resulted in a rebound headache and nausea within minutes. Carrying my keys in my left hand, for instance, while walking my dog, caused headaches and nausea. So did wearing a heavy coat, pushing a grocery basket, lifting heavy objects and driving long distances. Sleeping on a memory foam mattress became a requirement, as it was the only surface that did not trigger nausea.
In December 2003, a specialist at Duke University diagnosed me with Fibromyalgia and recommended a sleep study to rule out sleep apnea. She also prescribed Elavil 50 mg at bedtime to prevent headaches and to help with sleep. Without taking the Elavil, sleep was impossible.
After a couple of years, it was determined that the Elavil was not really preventing headaches, so then I was prescribed an anti-seizure medication to go along with it. After a few years on the anti-seizure medication, it was discontinued as well because it didn't prevent headaches either. In early 2004, I started Continuous Positive Airway Pressure (CPAP) for sleep apnea.
Almost two years ago, my pastor told me about "Braincore Therapy" neurofeedback that was showing promise in treating veterans with PTSD and chronic pain. I looked at the pamphlet his chiropractor gave him, did some research on it online, decided it was too expensive and dropped the matter. About a year after that, in the summer of 2014, out of the blue and without saying a word, my pastor handed me the Braincore pamphlet again.
This time, I delved more deeply. I found a chiropractor 75 miles away with a Braincore Technician who administered the therapy in his office. While I waited, he handed me an article to read, Post Traumatic Stress Disorder—The Neurofeedback Remedy by Siegfried Othmer, PhD, and Susan F. Othmer, BCN.
His technician conducted a Quantitative Electroencephalogram (QEEG) "Brain Mapping" on me. The chiropractor then recommended that I undergo 20 neurofeedback sessions and 10 more "for free", "because it takes at least 20 sessions" to make a difference and they throw in the extra 10 sessions to reinforce the therapy. I decided not to participate in this chiropractor's Braincore program because of the restrictive payment arrangements.
The very intriguing article he gave me, Post Traumatic Stress Disorder—The Neurofeedback Remedy, mentioned Homecoming4Veterans, neurofeedback training offered free to those who served in the military. So I looked online to find a participating provider. I found Mr. Mike Granger, in Fountain Inn, SC, working out of the Straight Chiropractic Clinic, this time, 98 miles from home.
(When I last spoke with the first chiropractor who administered my Braincore QEEG, I told him about the above mentioned clinic, the Homecoming4Veterans program and asked if he ever heard of the "Othmer Method." He said, "I have no idea! Good luck." Did he even read the article he gave me, Post Traumatic Stress Disorder—The Neurofeedback Remedy? If so, he would have learned about those who pioneered the type of treatment that he offered to me.)
My current pain and pain prevention medications are Lyrica 100 mg three times a day; Lidoderm Patch to my left subclavian area 12 hours a day; Relpax 40 mg as needed for headache/migraines; 200 mg Celebrex as needed for arthritis pain.
My first neurofeedback treatment was July 10, 2014, for a total of 25 sessions as of March 4, 2015. When I started, I was still taking Elavil 50 mg at bedtime for insomnia and headache prevention. About mid-August 2014, I noticed I was waking up very groggy, so I cut back on the Elavil, taking only 25 mg a night for two weeks, then 12.5mg a night for two weeks, and then finally discontinued taking Elavil towards the end of September. I went from not being able to sleep without taking Elavil to not needing it at all. I am no longer an insomniac. This is a miracle for me.
Also, I notice I need less coffee in the morning, and I have less anxiety. Self-confidence is increasing; I am able to focus better, and set and meet goals. My nightmares are gone; I am less agoraphobic and have a better handle on my temper. I increased my exercise by walking two miles per day and have lost 14 pounds.
The most dramatic and life-changing improvement has been the steady decrease in headaches per month. I was averaging about 8.3 severe headaches/migraines per month before neurofeedback treatment. Using the Othmer Method I am down to about one severe headache per month. Please see the comparison charts that refer to identical periods of time before and after neurofeedback therapy. The headaches have basically become less severe across the board.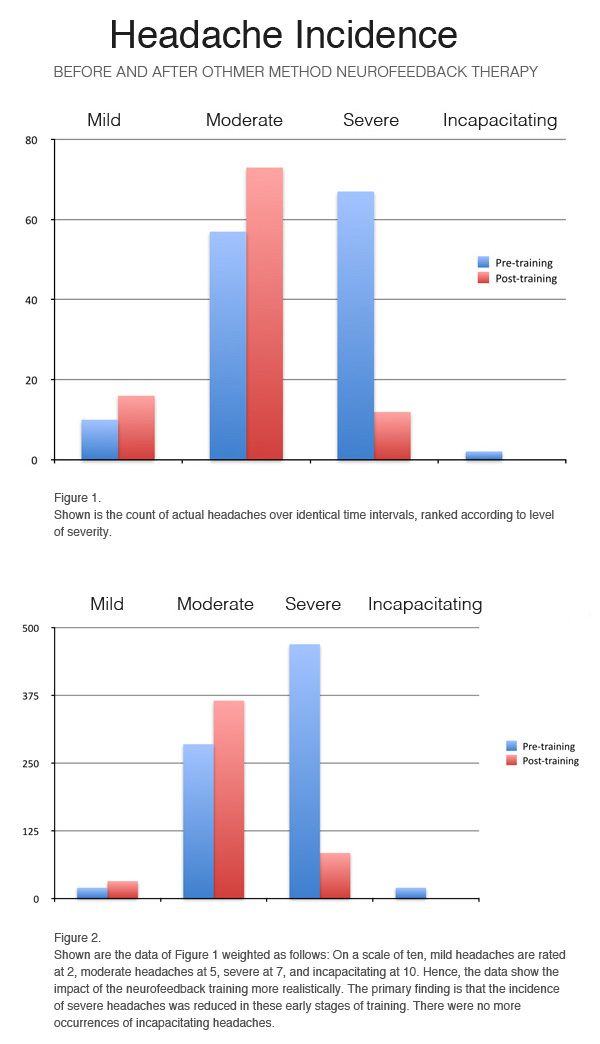 As it states in Mr. Mike Granger's pamphlet, "What is Neurofeedback?", "Neurofeedback…empowers a person to use his or her mind as a tool for healing," I can state that it has benefited me greatly, improved my quality of life especially by decreasing the headaches and healing the insomnia. My outlook on life is brighter and joy is returning to my days.
I am deeply grateful to Mr. Mike Granger for his generosity, patience and professionalism in delivering this greatly needed therapy for my mind and soul. I look forward to realizing even more healing as I continue my neurofeedback therapy. Thank you.