by Kurt Othmer | March 30th, 2023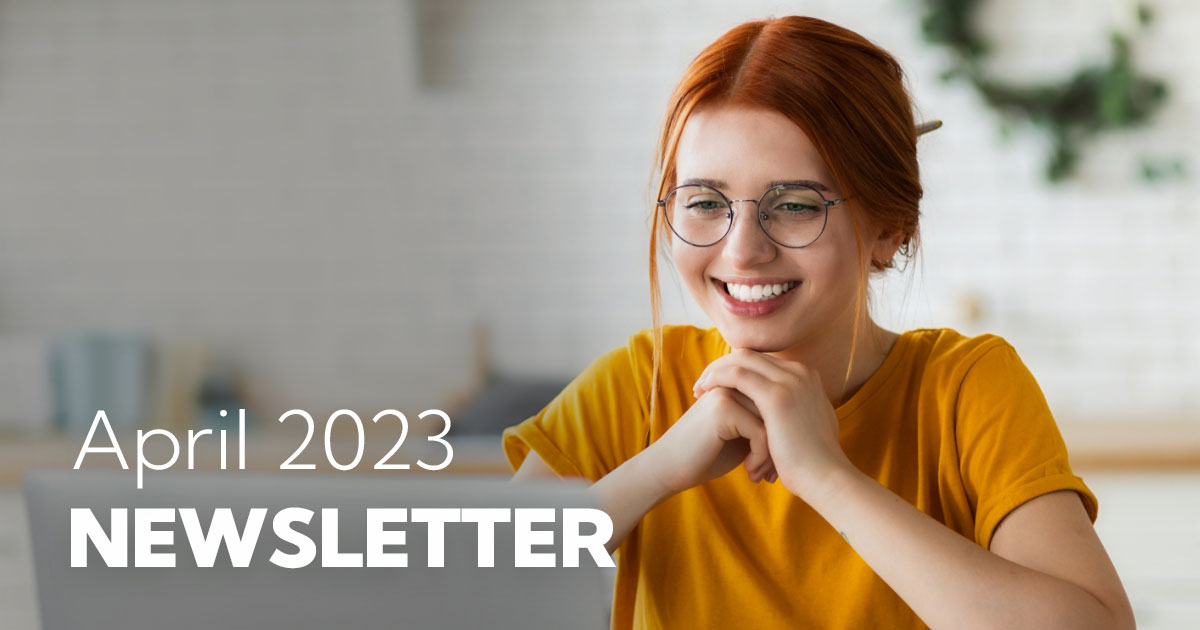 It's been a cold winter here in Los Angeles, and I see our rain keeps making the news. The rest of the US keeps setting records for cold weather as well. But spring is here, and we can't wait to thaw out from a chilly winter. We're also thawing out after three long years of a pandemic that put some of our favorite things, like this "regular newsletter," on ice for a while. But, we're still here in our big office and classroom in Los Angeles, the clinic is open again, there are new staff members to meet, some returning previous staff, a return to in-person learning in our classroom with breakfasts and coffee, a new director of education, a new lower frequency in the software, heartwarming accomplishments in the non-profit to tell you about, new publications, new videos to watch, and more.
The clinic is open again with new lower frequencies in the software, allowing for more calming and stronger results.
---
Welcome back, Gayle Dizon!
With her extensive practical and academic background in nursing and palliative care, and five years of experience here at the EEG Institute offering neurofeedback for our clients, we are excited to welcome Gayle back to the EEG Institute clinic. We're also introducing some innovations at the clinic front desk, like a scheduling app to make scheduling from your phone easier, and new pricing for returning clients and those who have finished 20 or more sessions.
---
Protocol Guides are back in stock!
Scroll down to the bottom for your 20% off coupon.
Were you promised a protocol guide with your course during the pandemic and never received it? If so, we've been trying to reach you. Please reach out if you're still waiting for your course protocol guide.
---
A return to in-person learning
2023 5-day in-person Schedule:
April 17-21 | November 6-10
The 2023 course calendar is online, and this month marks our first return to in-person learning since March 2020.
Also, look for a special-engagement practicum week limited to 14 students coming up April 10-15 (while seats last).
And join us for breakfast, coffee, and conversations with your peers each morning before class as we return to our 5-day in-person course format here in Woodland Hills.
2023 Distance Learning Introductory Course
May 8 – June 15 | August 28 – October 5
The pandemic "inspired" the creation of an amazing new 6-week distance course which totals 70 hours (including breaks) 56 CE credits, and the comfort of attending class just three mornings a week without having to travel and stay in a hotel. It's the kind of class we would never have attempted before the pandemic, but now that we have it, it's a huge boon for those who want to train with us without traveling, and it's a class we'll continue to offer. The distance course includes a bit more lecture time, some extra sessions, and additional hands-on and discussion time versus the 5-day in-person class. We've had attendees join from as far away as Australia, England, France, and Finland.
---
Virginia Rojas
New Director of Education
Introducing Virginia Rojas-Albrieux | Psychologist | Director of Education for EEG Institute and EEG Info.
Virginia has worked with neurofeedback and the Othmer Method for over 15 years. She's taught the Othmer Method both in Spanish and English in several Latin American countries, the US and India.
And Virginia is joined by an amazing teaching team including:
Darla Meulemans, MA, CADC III, QMHP-C, OMC
Evvy Shapero, MA
Kurt Othmer, BA
Siegfried Othmer, PhD
Clare Chisholm, MA, LPC
Gayle Dizon, RN, PHN, MSN
---
The Los Angeles Neurofeedback Pilot
Now, with almost 200 public sector and non-profit agency clinicians trained in offering neurofeedback for underserved and foster youth, this program to train and support these amazing clinicians as they get started in the field has been heartwarming, and it's been a major focus of our time these last 3 years. We're overjoyed to see the success and impact many of these clinicians are now having with their clients.
---
Endogenous Neuromodulation at infra-low frequency: A special topics issue in Frontiers in Human Neuroscience. This has been a major undertaking for Siegfried and for all the authors who contributed to this special topics issue. Hear him describe this important contribution to the neurofeedback field along with highlights from some of the papers.
---
EEG Info Membership
Our Membership has grown and thrived, now over 500 members strong. If you have an active membership with us, remember to take advantage of all your member benefits. Be sure to visit eegchat.com to see the latest posts, confirm your email address to start receiving notifications, and turn on "activity mode" in the settings to receive the associates daily and posts from members you follow or threads you like or interact with.
And, if your membership includes the video library, visit ondemand.eeginfo.com to find Sue Othmer's Development of the Othmer Method 6-part video, past clinical summits, case presentations, and more.
---
Our youtube channel recently crossed the 1 million views milestone!
Check out my latest "Neurofeedback Elevator Pitch" video, an answer to a request from a course attendee.
Recently, I was thrilled to learn that my placebo video was cited in the journal Brain.
---
What you tell us you love:
Brian's Legacy Audio Book
It's now been nearly a decade since we released the Audiobook version of my dad's book Brian's Legacy, and we're still getting active interest in this audio format. We hear from you that it's a hit.
---
---
Remembrances
A moment to acknowledge some of our own neurofeedback community members who we lost during these last few years:
Sue Othmer
February 1, 1944 to February 3, 2023
Read Obituary
Ann Richman
August 5, 1940 – January 17, 2023
Read Obituary
Les Fehmi
June 23, 2021
Read Obituary
Reid Schwartz
January 29, 1948 – May 20, 2022
Read Obituary
Michael Brown
February 15th, 2020
Michael Brown died on February 15. We have lost an enthusiastic and dedicated practitioner. Here's from his wife, Nancy:
"Michael was passionate about the work he was doing. When he started his own practice he thought it would take 7 months to break even. Well he was full in 7 days, seeing 9 clients a day 6 days a week and even had to stop putting folks on a waiting list. He especially loved working with teens, he saved his Saturdays for them. He felt so bad when he had to cancel appointments because of being sick. He was helping folks in a real way, and they were all patient with him, hoping he would get well again."
Skip LaFleur
Sept 25, 2020
Bonnie Huxford
Nov 26, 1942 – April 28th, 2021
Read Obituary
Ladell Lybarger
November 22, 2022
Read Obituary
Robin Larsen
October 17, 1941 – September 26, 2022
Most notable to this group is that Robin was the wife of Stephen Larsen Ph.D. Author of "The Healing Power of Neurofeedback" and other neurofeedback books.
Read Obituary
---
Finally, I know many of you are waiting for another clinical summit in LA. We're thawing out slowly here, but we'll get there. In the meantime, consider joining an in-person practicum week or re-attend an in-person intro. We'd love to see you and have breakfast and coffee together. We can't wait to see everyone again soon.
Please stay warm out there, spring thaw is right around the corner.
Warmly,
Kurt Othmer